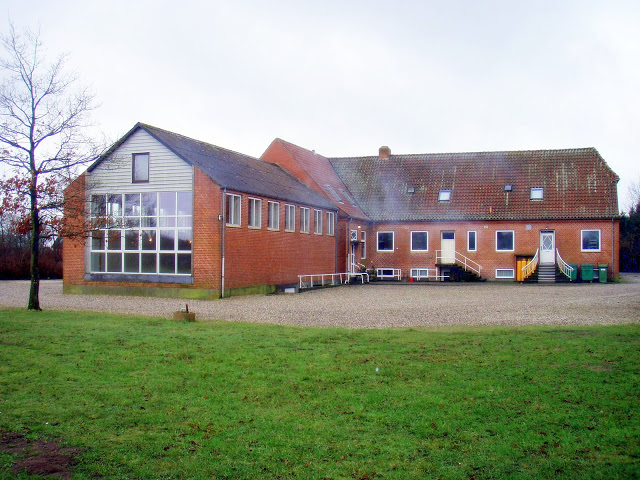 Camp Stendis lies in the little Village Stendis, just 17 km from Holstebro. The camp is a refurbished one-time village school, on a 11.000 m2 property. The property has a large football field which can also be used for tents and camping, since it is equipped with running water and electricity
The camp's main building is aprox. 1000 m2, with a total of 15 rooms in different sizes, which together has around 100 beds. 12 of these rooms have their own sinks with hot water.  In addition, toilets and showers can be found around the camp. The large hall is often used for parties, since the entire end of the wing is windows, giving a fantastic natural light in the while room. This room is cleared for up to 150 people.
Near the kitchen, a large dining hall is ideal in combination with the large party hall. In the eating hall, festive eating arrangements are easily made, or covers for cake and dessert can be made. The kitchen has large convection ovens, a gas stove as well as a large flat grille. The is cutlery for up to 150 people, including white, red and champagne glasses, if desired. Additionally, the kitchen has a large walk-in freezer, which can either freeze or cool, depending on need. 
In the camp you will also find a copy machine, overhead projector, piano as well as a multi media projector with screen. Also, the is free wifi (50/50mb), though you have to bring your own computer. 
If you are looking for spending time outdoors you can bring a tent or caravan and sleep on the football field. In the green area you will also find a bonfire site, and nature paths leading to both lake and forest. 
Not far from the camp, you can find, and freely use, the new "Tinkerdal Skovlejeplads", which has bonfires, shelters and playground. It also has aqualiti tracks for the dog, as well as two professional military obstacle courses. Hjerl Hede and Holstebro, with Denmark's most beautiful shopping street, is just 20 minutes away.