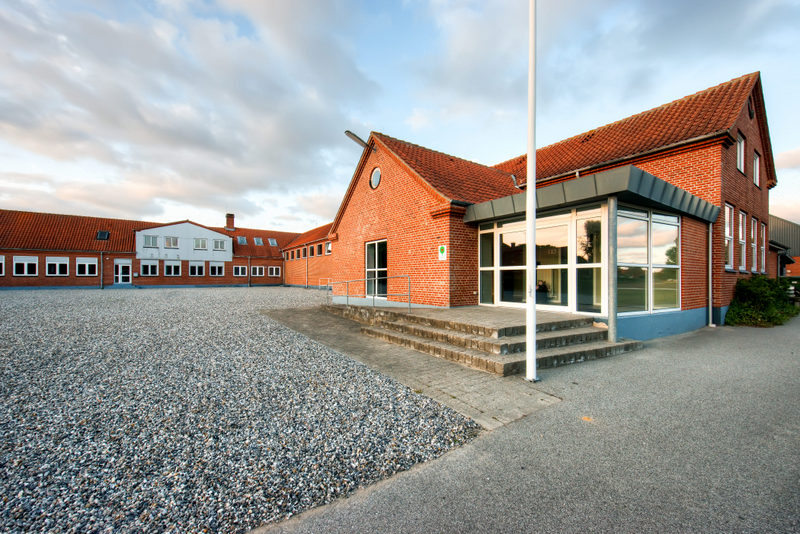 Camp Jegindø lies in the middle of this beautiful island, Jegindø. You get to the island via the small bridge that binds the island to Thyholm. The island still has its characteristic fisher's wharf and the beautiful old church. The marina lies between small vacation homes near the island's small eatery, which offers hot meals, delivered or in the restaurant, where you can also have a drink.
Camp Jegindø is the old public school and later boarding school, which has now been converted into a camp.
The camp can house everything from weddings and family parties, to company parties, conferences, work shops or schools on an overnight trip. Up to 250 people can overnight in the camp.
The large party hall can host 150 people, also offering the use of a stage. There is light dampers on the ceiling and the walls, as well as access to use of a projector.
The small hall, adjacent to the large hall, can be used for smaller gatherings, or in addition to the large hall. They can be used separately, also with the use of the kitchen if desired.
The kitchen is of professional grade. It has two large convection ovens, gas stove, large flat grille and a fully automated dishwasher that will save you from spending all day cleaning after meals. Cutlery, including white and red whine glasses as well as Champagne glasses, are available for up to 150 people. For a fee there is also access to washer/dryer facilities - and there is access to a large room for drying particularly wet outdoors wear.
In addition, the camp has various instruction infrastructure - classrooms with chairs, tables and black boards. The old teacher's lounge with conference table, and various offices with equipment. The old library with bright ceiling windows, can be used as a lounge.  The old gym, still intact with all its equipment can also be used as per agreement during booking. 
The outdoors also offer great experiences on the island. Play football in the field, fully equipped with goals, or rent hiking equipment to experience the nature of the 18 of beach around the island. 
Last but not least, only a 100 meters from the camp, a small supermarket which still exists, despite the islands relatively small size.